3M Show Car Paste Wax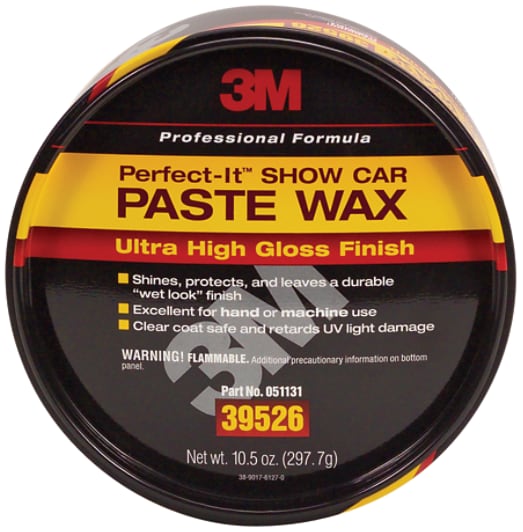 On already machine polished paint, to prepare I used Serious Performance Paint Cleanser on a Sonus Professional Hand Applicator to bring the paint to a point that it is as perfectly clean as it can be – creaking clean … ready for the wax.
Applied with another Sonus Professional Hand Applicator on the softer black side, the wax went on in such a thin layer it was almost imperceptible. Buffed off with a EuroW deep pile towel …
WOW!!!
Despite overcast skies, I trust that they give the general impression of what I was seeing – full on crisp, bright paintwork with some classy depth. I took the first one on an angle to try to show the wetness that I was seeing and the second one of the spoiler shows how the brightness glowed off the paint – you can see the brightness reflected up on to the somewhat dirty spoiler. I know … I know … I really should sort that out.
… then, as if on cue we had some drizzle, which turned into rain … and stopped abruptly with almost clear skies.
… so a quick spray down with the water going high over the car to simulate further rain. Enjoy!
Fwar! That's beading porn …
Once overwhelmed with their own weight, the water just flowed off. The shape of this car does leave that area with standing water, but watching the behaviour of the water (especially on the boot) the droplets flowed off as if assisted with a little "turbo-power".
Moving to black, my immediate comparison was going to be against Collinite 915.
Again, applied with a Sonus Professional hand applicator, the wax can be applied in a very thin layer almost imperceptible. Here it is curing:
… and removed with a Sonus microfibre towel, which seems to have just enough bite while being very soft for this paint:

Again, this is to show the general impression of the "classy" gloss that is delivered by this wax.
Both application and removal are very easy – the wax works for long enough to get a very thin layer down and evened up before curing quickly. Removal is a simple wipe with a microfibre towel – no going back over and over, this wax simply removes almost effortlessly leaving behind a true Show Car Wax. Perfect!
Summary comments?
Regarding application and immediate looks, my general impression was that I have not seen this level of brightness on my white car often before – Duragloss and Finish Kare seem to deliver that, but there's something a little more to this and I can see myself layering some Finish Kare 1000P over when the weather comes brighter. I talked about a "classy" gloss and that's what this wax does – think, the difference between Collinite 915 and 476S, but this one delivers the brightness too as well as the warm depth. Personally, for looks, I think it knocks the spots of both.
If Finish Kare 1000P is the "new" Collinite 476S, then this is the "new" Collinite 915.
That it comes in a wide tin, rather than a plastic pot is something I happen to like – that kind of retro-feel; and the tin is wide enough to accept a good range of applicators without having to contort them in order to transfer wax to the pad. For application, this knocks out several other more expensive waxes that I own, have enjoyed, but will probably no longer use.
It certainly won't knock Dodo Juice Supernatural or Swissvax Best of Show out of my routines since they hold special places for certain deserving cars, but it rather puts Collinite 476S, 915, even 845, the Poorboys World Natty's waxes and Chemical Guys Pete's 53 out of my routines and if the durability is as good as I hope, then it certainly will.
In a word, a lot of fun, easy to use … and for application and initial looks, I think it's a fantastic wax.